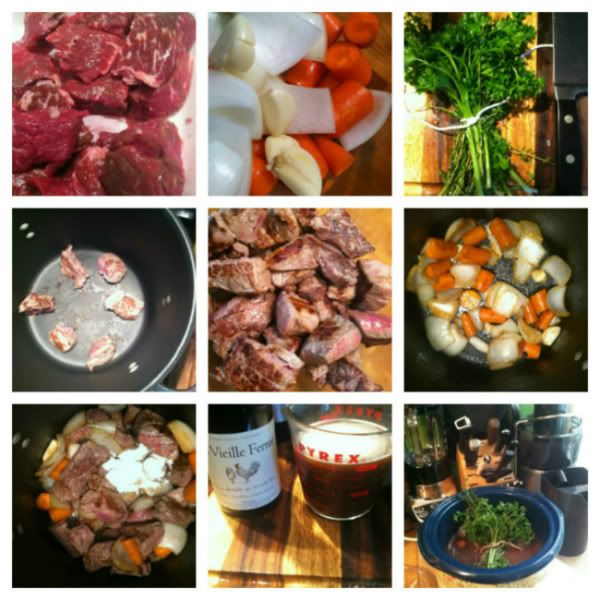 The nice thing about a hurricane is that you know pretty well in advance that it's coming. It's not like a Tornado that just decides to drop out of the sky, throw your belongings into the next county and bid you a good day. I have experienced three tornadoes. Two were far away, but I got to watch them drop. The third was spent in the shelter that is the Alabama Shakespeare Festival stage...
Shouldn't all shelters be theaters? What a nice idea.
Back to the hurricane.
Irene came for a visit. A couple days before I thought it might be a good idea to stock up on some things... supplies for a good batch of ice cream (see
previous post
) and something warm that I could cook all day and have lots of leftovers.
I am not a recipe kind of guy. Having grown up in a kitchen and spent many years working with food, I'm pretty good at faking it. (Reason #1 why it took a lot of work to learn to bake. There's no faking in baking... I just made that up. Genius.) So, I glanced at a few recipes and played with it a little and... well, let's just say it was a happy hurricane.
I know it's not hurricane season, but it's getting cooler and here's a great recipe to share with your family. Turtle loved it. The Missus did, too. My kid is pretty open and adventuresome when eating. At 18 months, he appreciates a good Beef Bourguignon.
So, here it is.
This recipe makes enough for 4. (Or two and a half with leftovers.)
Ingredients




For the stew

2 pounds boneless stew beef, such as chuck or sirloin tip, cut into large chunks. I went with a good grass fed cut from a trusted butcher.

1 tablespoons pork fat or olive oil, plus more if needed.

You're only going to use the following veggies to flavor your stock and your meat. This is not the time to impress with your knife skills.

1 carrots, peeled and halved

1 onions, peeled and halved

2 cloves garlic, just crushed

1/8 cup all-purpose flour

1/2 bottle red wine

2 cups beef stock

1 bouquet garni (made from bay leaf, parsley stems, and thyme sprigs)




For the garnish

1/2 tablespoon olive oil, plus more if needed

3 to 4 slices bacon, cut into lardons

(Lardons are a French bacon. You can buy them cut into cubes or strips. I got some fantastic locally produced thick cut bacon, trimmed them into small strips and used half for this recipe and froze the other half to use in all kinds of dishes. Who doesn't like bacon. the way the French use it is amazing. Rather than downing five or six strips on a Sunday morning, they use a little in darn near everything. Brilliant.)

20 baby onions, peeled

(this takes time and is a bit of a bugger, but totally worth it. Baby onions are also known as Cocktail Onions or

Cipolline

.)

12 ounces mushrooms

Directions




Remove the meat from the refrigerator and bring to room temperature, about 20 minutes. Do not skip this step.




Heat the oil in a large casserole. Working in batches, brown the stew meat well on all sides, removing as you go.




Don't toss all the meat in at once. You want to brown the meat, not steam it. Small batches. Brown it all the way around. Trust me.




When the meat is done, cook the carrots and onions in the same pot until tender and lightly golden. Add the garlic, and cook one minute. Add the flour and cook, stirring for 2 minutes. Toss it all into the crock pot. Pour over the wine and the stock. Add the bouquet garni. Put your browned meat in the pot, cover, and cook that sucker all day long, until your meat is very tender.




If you are using an enameled cast iron dutch oven or a pot that can go from stovetop to oven, or don't have a crock pot, pre-heat your oven to about 325 and do everything in just one pot. Put everything into the oven until your meat is very tender, about two hours.




While the meat cooks, prepare the garnish: Heat the oil, in a pan and brown the bacon, and remove.




Add the onions and cook until browned all over, remove. Finally, brown the mushrooms, and remove. Deglaze the pan with 1/2 cup water, reduce, and then pour over the garnish. Set aside.




When the meat is done, remove it from the pot. Strain the stock, discarding the vegetables. Pour the liquid back into a pot, and boil until thick enough to coat a spoon. Return the meat to the pan and add the garnish. Cover, and simmer until the onions are tender and the flavors have blended, 10 minutes. Adjust the seasonings. Serve.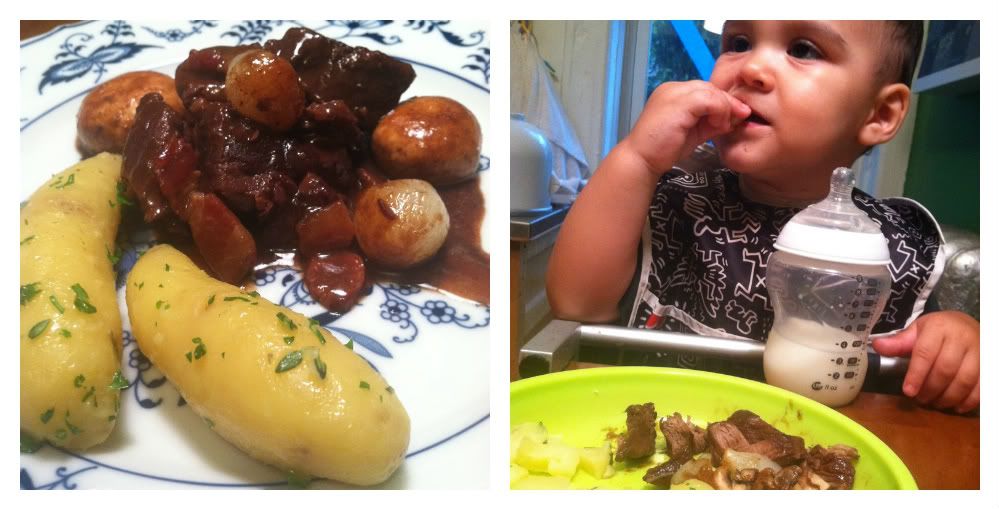 Pair these with a good potatoes, some brussell sprouts sauteed in garlic or whatever veggie floats your boat and dig in.
A nice home made black tea ice cream and warm brownie is always a good way to end the meal.